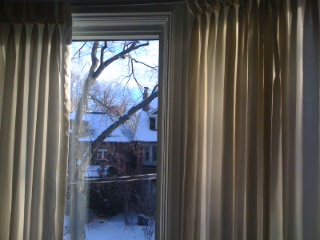 I grew up in the family business: fabric and drapery stores in Winnipeg that my parents founded. To us the Fabric Centre was more than a retail operation, it was like another sibling and everyone in my family both lived with it and worked there.  
I started doing the store's books when I was 12 and moved up to stock boy, sample organizer and eventually 'high-priced help' as my Dad used to say.  Time was, I could close my eyes, rub any fabric and tell you whether it was pure cotton, wool, silk or a blend.
This is the Fabric Centre's final month.  My sister, who took over some years ago, decided to close it because the world has changed; fewer people sew and clothes are a lot cheaper so why spend the time making them yourself.  It was a tough decision, and I believe it's the right one.  The Winnipeg Free Press caught wind of the news and wrote this story.
I was feeling nostalgic thinking about it and realized I learned a lot of social media lessons from the store:
Listening comes first.  According to My Dad you never said 'Can I help you' to a customer because their automatic response is, 'No thanks, I'm just looking'.  Instead he encouraged them to look around for a few minutes while he quietly watched. When he approached them, he'd noticed what they'd been drawn to and found a way to mention it in a conversation. All of a sudden he went from salesperson to someone who was there to help.

It's all about community. My Dad believed the customer was always right. (For a long time, I disagreed, but being in the agency biz, you can see I came around to his perspective.) He was charming, didn't argue with people and if he didn't have what someone was looking for, he'd suggest a place they could find it. And because of that people trusted him and kept returning. Later they brought their daughters and grandaughters, too.  And before you knew it, he created a real community.

You have to know how to measure. Taken literally, that meant yards or metres of fabrics. Measuring too liberally meant you lost money; too tight and people wouldn't be able to properly cut out their pattern.  The other measure my Dad used was that he wanted to make sure as many people as possible left with bags. Both were directly tied to the bottom line.
I learned a few more things – including how to help people choose drapes and blinds.  And I'm still available for estimates.
So long, Fabric Centre. It's been a great run!