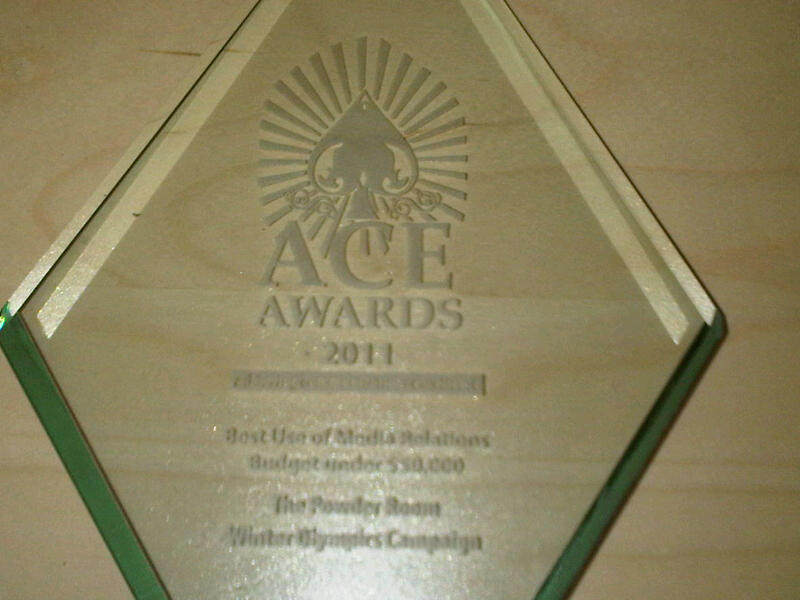 Wednesday was the annual CPRS Toronto ACE awards – celebrating the best PR programs of the 2010.  As president, I have the honour and pleasure of congratulating the recipients and handing out the awards. Special thanks to the committee for a wonderful and streamlined event, meaning I didn't slow down the process posing for photos with all the winners. (Last year, it took me a week to wipe the silly grin off my face :).)
This year's gala had a double meaning for me.  I was excited to present energi PR with our first award – a gold for media relations for our client Astellas' Pharma's community, The Powder Room.  
The Powder Room just celebrated its fifth anniversary and is a great example of community-building that started back when social media was in its early days.  It's a site dedicated to people with overactive bladder – which causes them to go to the bathroom more frequently than normal. And its most unique feature is an interactive powder room map where folks can list and rate bathrooms across the country.
As you can imagine, travel can be an issue if you have this condition – and especially during something like the potentially traffic-jammed drive to the Olympics in Whistler.
Our winning campaign used this insight to create a map of the long and winding road to Olympic Gold showing the best places for a rest(stop) along the way.
I want to congratulate the team and especially my partner, Carol Levine and VP, Lindsay Peterson, for the breakthrough work they continue to do on the project.
Great job everyone! Now… if you'll excuse me, I have to go…