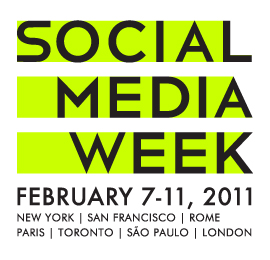 Today Toronto and other many other cities around the world go social with the beginning of Social Media Week.
There are many great events to choose from and I thought I'd highlight a few I'll be participating in:
Business Wire Social Media Webcast 2012 (February 14) – I'll be moderating a panel including journalists Matt Hartley and Sean Pasternak and start-up entrepreneur Erin Bury on the social business environment, emerging trends and platforms and what it all means.
The Social Media Ref presented by Cision (February 16) – Terry Foster and Julie Geller wrangle a group of outspoken marketers, communicators and educators debating various topical subjects. We're divided into a couple of groups and mine's talking about whether or not bloggers should be considered journalists. Should be a lively event. (Client.)
Hot, Cold and Everything in Between: The Many Degrees of Online Customer Engagement (February 17): Who's doing a good job using social media to build relationships with customers? What are the challenges and best practices? We helped organize this panel for our client Rogers and it features Mary Pretotto from Rogers, Mike Taylor, Fairmont Hotels, Mark Lefevbre, Kobo and Terry Fallis (as the moderator).
And of course there's a special edition of Third Tuesday Toronto featuring Tony Clement, M.P, and president of the Treasury Board of Canada. He's one of the country's most active politicians on Twitter. He'll be talking about open government, the opportunities and challenges (not technically a SMWTO event but definitely in the spirit…).
What are you looking forward to at SMW? Hope to see you there.