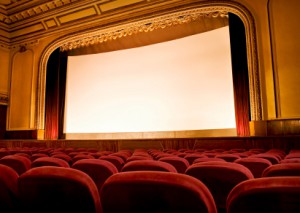 OK, I'm not exactly referring to the movie viewing experience of the '50s.
But I am thinking wide-screen.
We know our social/digital world is a visual one and as marketers and communicators we need to tell graphic stories (but not that kind of graphic :)) .
We understand the importance of standout images for Facebook's timeline cover photos, Google+ profile pages and of course, Pinterest.
And now Twitter's jumped into the frey with the launch of its new header photos.
The header shot lets you add a more visual representation of who you are to your Twitter profile and it's visible on both online and mobile platforms.
With limited positioning options, you'll want to do your editing beforehand. Once you have the main shot uploaded, your avatar will still be there, dropped into the top center of the frame with your name, handle and description below. So you should take that into account too. I had to try it a few times to get the balance I wanted. (It reminds me a bit of an About.me page.)
Social Fresh offers a good overview of how it works.
Are you ready for your close-up?
Here are four elements to consider for your personal or brand representation on the little-big-screen:
Go horizontal. Capture photos in landscape format.
Are you composed? Is your eye being drawn to the most important part of the photo or does it not know where to settle? Be sure to look to the left and right side of the frame (the peripheries) to make sure it's not cluttered with extraneous detail. And don't forget to crop.
Steady. Steady. Make sure your images are in focus. If not, take another shot.
A little off kilter. You may not wear your hat that way, but there's no reason you can't go in closer to get a jaunty angle and make the image more memorable.
And don't forget about people.  It is a social medium after all.
We've come a long way from those bland website stock shots of people leaning over a desk, pointing and gesturing, in a phony approximation of work. Now we can try to be picture perfect.
Do you have any photo tips to add?