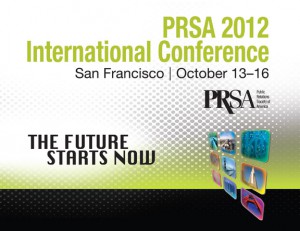 I tweet a lot at conferences (no kidding!) to share content that stands out for me.  And a few years ago I noticed my Twitter stream was becoming a virtual notebook from events.
Last week I was fortunate to attend the PRSA International Conference in San Francisco, as a speaker and sponsor – Inside PR is PRSA's podcast partner. And I want to thank everyone who attended my session. I enjoyed meeting all of you and appreciated your questions. If you're interested, I posted my Social Media Barometer slides online.
One thing you can count on from PRSA is they put a good deal of thought into the content. There's always a first class line-up of keynote speakers and presenters and a terrific opportunity to network, chat with and get to know some really smart people. 
Here are 10 Twitter note highlights from various sessions:
Of course there were many more comments and discussions, including Shonali Burke's post on the importance of making business connections.
If you were at #PRSAIcon, I'd be interested to hear what stood out for you. And what do you look for at conferences – learning, networking or a combination of the two?