BOOKS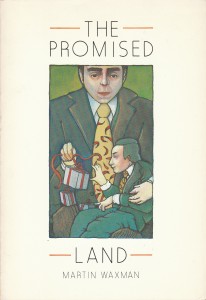 A satire of life in a shopping mall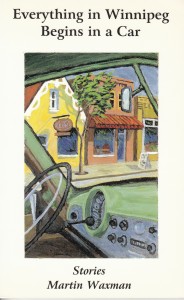 Humorous stories about growing up Jewish in Winnipeg's south end
MULTIMEDIA STORYTELLING EBOOK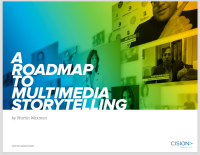 Being in PR means you're a good writer – or should be. And you're probably organized, proactive and fall on the social side of relationships, especially as it relates to media, bloggers and other influencers.
But imagine how much more memorable your stories would be if you were as comfortable with video, audio, images and design as you are with words?
A Roadmap for Multimedia Storytelling, the ebook I wrote for Cision, offers ideas, tips and advice from creative thought-leaders on how to use multimedia simply and effectively and move beyond our textually active selves.
GUEST POSTS & WRITING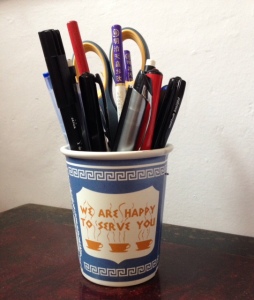 Marketing Magazine Columns
Don't Be an Idiot on Twitter
Why a dollop of judgment before you post, goes a long way
PR by the Micro-Moment
Moving from clips to discovery at the optimal content moment
Content Marketing Lessons I Learned From Honest Ed
Look closely – you'll be surprised what you find
Moving to a More Social PR
On content, visual storytelling, connections and syndication
Why People Suck at Communications
Hint: it's all about an overactive ego
How PR Practitioners Can Become Lifelong Learners
Tips on setting up your personal academy
The 2015 PR Playbook
Three ideas to think about in the new year
Scripted Improv: Is That Where Social Media Needs to Go?
Is your brand comfortable and sharp enough to throw away the script and play off the moment?
The Arrogance of Experience
Tips on how to reach media by media. Why do some PR people believe what they did in the past works better?
Time to Clean Up Content Pollution
Taking a page from the environmental movement and learning to conserve content
The Zen of Content Marketing
A guide to finding your Inner Ps
No Gamble with Content at SXSWV2V
Highlights from SXSW's younger, brasher sister conference
Social Media, Boomers and Rock and Roll
Do boomers view social media the way their parents viewed rock music?
5 Takeaways from SXSW
A year of human spam, power gestures, comic crowdourcing and more.
How to Master 'New PR' to Win More Business
We call it many things – publicity, media relations and earned media – but new PR needs to do more.
Spin Sucks Posts
The Spin Sucks Inquisition
Sitting in the social media, communications and no-spin hot seat
What Comedians Can Teach Us About Visual Storytelling
Laugh at yourself, avoid overproduction and know when to get off the stage
Crisis Simulations: The Next Best Thing to Being There
You don't train for a marathon by simply talking. Here are six tips on how to practice for a crisis.
From Optimist to Optimize: The Future of PR?
In new PR, just being optimistic that you'll get coverage is far from enough.
Communications Perspectives from Classic Board Games
Your turn? My turn? Social lessons that go beyond spinning the dice.
Thirteen Crowdsourced Digital Media and PR Lessons from 2013
The rest of the lessons list, thanks to the generous community at Spin Sucks.
Six Digital Media and PR Lessons I Learned in 2013
The year isn't over, so there'll probably be some more.
Lather. Rinse. Repeat. Why Social Amplification Reminds Me of the Replay Web
Why some stories shared on social media continue to find new audiences and spread.
What the PR Industry Can Expect in the Next 10 Years
A look at some of the changes and where the industry may be heading
PR: Moving the Profession from Talkers to Makers
What skills do we need to learn in order to turn the industry into creative visual storytellers?
Publicity Confessions: Things I Learned from Trash TV
You never know where you'll pick up a few ideas on strategic communications and amplifying your story.
Publicity: Confessions of a Publicist
It's time to retire the term, media relations. Why being a publicist has more relevance now than ever.
Influence Scoring: All Klout(ed) Up and Nowhere to Go
Observations from a Klout experiment and thoughts on influence and why we're missing a key point.
My Klout Score: It Loves Me, It Loves Me Not
Is online popularity mistaken for influence?
Community Management is the New PR
Exploring a new model for strategic public relations.
What's the Future of PR?
A candid look at the profession and whether or not it can adapt to the new social media landscape.
Mad Men: Ad Agency of the Future
What the team at Sterling Cooper can tell us about the agency world today
Social Media Content and Halloween Candy – Don't Gorge on Either
Why the abundance of Halloween candy is a lot like the abundance of material we face in content marketing.
Gaining a Formal Social Media Education in a DIY World
Taking a more formalized approach to learn how to work in social media.
Boxing Day – No Rest for the Social
Being all shopped out after the holidays can offer some helpful social media lessons.
Addicted to Social Media
My name is Martin Waxman and yes, I am a social media addict.
Waxing Unlyrical Posts
Words and Pictures – The Batman and Robin of Content Marketing
Brand storytelling from the Cape Crusader's POV
My Wake Up Call
How social and digital media has reenergized at least one PR professional.
Other
Out of the Frying Pan…Into a Communications Pressure Cooker
A preview of my Social Media Barometer presentation, which examines recent trends and pressure points in the social and digital communications space.
IPRA – Passport to World Citizenry
Social media is blurring national borders and exerting pressure on the scope of communications mandates. Martin Waxman considers how PR practitioners should respond.