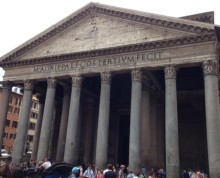 Do you consider yourself lifelong learner? I didn't always see myself that way. Yet when I look back, I realize I started my own personal academy 10 years ago around the time I co-founded my agency. And it began with two things: accreditation and Counselors Academy.
read more
Thought I'd share a list of events I'll be attending over the next few months: PRSA International Conference, San Francisco (October 14 to 16) – The largest gathering of PR professionals in the world and a first class line-up of speakers including a keynote by Twitter founder, Biz Stone.  This is the second year Inside PR has partnered with PRSA and we'll be there to interview some of the presenters and reconnect with old friends. Also, I'll be presenting my Social Media Barometer on Sunday. Hope to see you there. You can follow the conversation at #PRSAIcon. 
read more
Too often the PR profession is defined by what it's not: as in …not advertising …not marketing …not (just) publicity. But it doesn't address the most important issue: WHO WE ARE. We've all experienced it; many people don't understand what PR does. To some, we're shadowy figures, pulling strings, spinmeistering, whispering – the darkest side of our industry and the one most often represented in movies because it makes for good drama. And while those things do happen – probably more than they should – it's a representation of a small part of the profession.
read more
On March 5, about 75 leaders from the Canadian communications industry, representing CPRS, CCPRF, IABC, Global Alliance, College of Fellows, the HCPRA (and yes, Counselors Academy, too) gathered at the Old Mill Inn in Toronto to look at PR today and imagine our future. The event was the brainchild of Terry Flynn, director of McMaster University's Masters of Communication Management program and national president of CPRS. For me, one of the best parts of the session was working in small groups on a 'Force Field' analysis of our industry.  Essentially, this is a decision-making exercise that helps analyse the forces…
read more
If you're following me on Twitter, you've probably noticed my recent propensity to live-tweet at events. I've tried to take my cue from Joe Thornley, who sets the bar high. And while I do like being an ersatz 'reporter', I know there's a trade off between filing stories in 140 and full concentration. (I'm sure some psychologist will conduct a study to measure it.) Here are some of my Twitter highlights from the CPRS national conference in Vancouver (or search the hashtag #CPRS2009):@thornley Old PR is dying, our eyeballs are moving over to social media; the world is changing, media…
read more
I don't usually attend two conferences in two weeks – much less two PR conferences. However, that's what happened early in June when I twice ventured west: first for Counselors Academy in Palm Springs and then for the Canadian Public Relations Society in Vancouver. And I thought it's worth noting some of the similarities and differences. Both conferences focused on social media and its application to PR; both had knowledgeable presenters and tier one keynote speakers (including Robert Stephens, Steve McKee, Brian Solis and David Suzuki – to name a few); and both had PR students live-blogging/tweeting about the events.…
read more
Last month, David Mullen posted a question about whether APR still had value for PR professionals. There was a lively debate and I posted a comment which put me in the APR 'die-hard' camp – a place I'm happy to be. As I've said before, I'm a strong believer in professional accreditation, both personally and for the industry as a whole. And, as CPRS Toronto accreditation committee co-chair, I wanted to remind you that if you are interested in pursuing the designation, the deadline for applications is December 1, 2008. Please visit, www.cprs.ca for more information, or feel free to…
read more
In a recent Inside PR podcast, I was taken to task for my statement (and I'm paraphrasing) that in Canada, tobacco companies are legal entities and, while most of us would say that smoking is bad for you, tobacco companies, like other Canadian corporations, are entitled to PR. To me, this is similar to the right of legal representation. I still believe that. In much the same way that I believe in free speech though I may not always like or agree with what's being said (or written). And for that reason I don't think our industry should get into…
read more
As I mentioned, Giovanni Rodriguez, communications practitioner, social media thinker and one of the founders of The Conversation Group was in Toronto last week to talk to my agency's staff and clients and members of CPRS Toronto and have a chance to social-ize with Joseph Thornley and the folks at Third Tuesday Toronto. Giovanni presented many thought-provoking ideas. He encouraged PR folks to take a leadership role in social media by going back to our roots and 'relating to the public'. He suggested we consider social media (formerly 'new media') as an innovative way to reach out to influencers. He…
read more