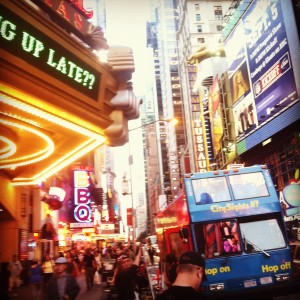 You're a well-known or up and coming brand. You've got a big announcement and want to shout it to the world.
Or you have an exciting product launch or some important company news. You want to get the word out, build awareness, engagement and your business.
Maybe you're a startup or entrepreneur with an amazing idea so you create a business, build your team, delight your customers and, before you know it, start to grow.
How do you make the news?
These days you have to do more than issue a press release.
You need to learn how to publish, produce and share dazzling stories. And in order to do that you have to think like a newsroom, create engaging multimedia content and amplify via social, digital and traditional channels.
And we can help you get there.
Strategy. Training. Content.
We work with you to create standout content marketing, social media and social PR programs that engage, educate and entertain. This includes:

Developing goal-oriented strategies and actionable content marketing plans with measurable objectives.

Training your team on the latest social and digital media trends and giving them the skills and tools they need to bring your content marketing programs to life.

Developing and implementing an online blog/newsroom as your content hub, optimized for discovery and search.

Amplifying your news and stories via social PR.

Leading creative idea generation sessions and establishing a workable content/editorial calendar.

Writing high impact blogs, articles and stories, scripts, news posts and releases, Q&As, talks and presentations.

Producing sharable videos, podcasts and multimedia brand stories.

Social media audits to identify insights, opportunities, challenges, audiences and communities.

Researching, identifying and building relationships with influencers.
An approach that works for you
We work with clients big and small to develop strategies, uncover, write and edit your stories, help you find and develop your brand voice, select the optimal social channels and train and guide your team.
Consider us as your outsourced editor-in-chief.
Interested to hear more?
Please contact us to discuss how we can prepare a program that's custom-tailored to your needs.